Your phone system is the life-blood of your organization. From small, single-office key systems to large, multi-site Voice over IP solutions, we will provide you with the best products and support available anywhere.
Business Telephone Systems
---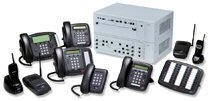 From selection to installation to service, BDS will help you every step of the way. Rely on our extensive experience with business telephone systems to help you select the right product for your needs. Our service promise and professional installation and training will help you get the most out of your investment.
• Voice Mail
• Auto Attendant
• Call Accounting
• Leasing

• System Installation
• Voice & Data Cabling
• Relocation
• Responsive Service

• Certified Technicians
• Large Parts Inventory
• Statewide Coverage

Voice-over-IP
---
IP telephony can deliver more functionality at a lower price than conventional telephony solutions, allowing you to focus personnel and budget on your core business activities rather than on supporting a telephone system. Some of the advantages of a VoIP phone system are:

Lower Cost of Ownership - There is no need to maintain two seperate infrastructures, one for voice and another for data.
Simpler Adds, Moves and Changes - Moving an employee is as simple as unplugging a telephone and plugging it in at a new location.
Multi-Office Connectivity - Use your existing data network to allow extension-to-extension dialing throughout your enterprise.

AT&T Services
---
As a AT&T Solutions Partner, we design and implement comprehensive solutions featuring AT&T services and a wide range of complementary products. BDS can help you put together a communications system that makes sense for your business. We offer you focused, customized attention. You get a single point of contact for all your communication needs.
Voice Services - AT&T offers a suite of voice services to keep your organization running smoothly: Business Lines, Trunks, Multiline Hunting, VoiceMail and CrisisLink Service.

Data Services - AT&T provides sophisticated data solutions for connecting your people and offices: Point-to-Point T1, Frame Relay, Managed Network VPN Service and Metro Ethernet.
Internet Services - AT&T has the services you need to help you get the most from the Internet: Dedicated Internet Access, FastAccess Business DSL and Dial Internet Service for Business
AT&T Long Distance - AT&T provides a complete suite of long distance voice and data solutions: Conferencing Services, Low Long Distance Rates, Long Distance Voice VPN Service and Prepaid Cards for Business.

Structured Cabling
---
The backbone of any network, whether data, voice or video is the cable infrastructure. Properly installed and configured for your future organizational requirements, it will provide years of fault free operation. BDS can provide your business with state-of-the-art cabling services designed to provide maximum performance for your computer and telephone system needs including CAT5, CAT5E, CAT6, fiber and even wireless infrastructures.
Call Center and ACD Applications
---
Enhance your communications with a Call Center solution from BDS. Automatic Call Distribution (ACD) applications streamline communications for small- to mid-size call centers. Business intelligence is applied to inbound call traffic, efficiently queuing and routing calls to waiting agents. Cost-effective and feature-rich, a BDS call center solution is ideal for telesales agents, help desks, and customer support groups. With multiple routing algorithms, agents are empowered to efficiently manage customer inquiries. Call overflow—busy or timed-out traffic—is routed to the best, most logical coverage option. For call center administrators, ACD software offers a variety of reporting options to help you validate your strategy and optimize operations.
Stay Well-Connected Wirelessly
---
Wireless phones allow you to handle the increasing mobility requirements of managers, executives and power users, ensuring that important communications get the attention they need. BDS wireless solutions provide call control, advanced features and applications for delivering robust capabilities and secure voice connectivity over a standards-based wireless network.